Onehope Bundaberg Music Festival Objective The inaugural annual Onehope Bundaberg Music Festival is being held on Saturday 23rd June with a united church involvement as an opportunity to reach out to the community to share the Gospel and to promote Christian unity. The festival will run from 10am to 10.00pm. Our target market will be from Rockhampton to and including the Sunshine Coast with the only other similar festival held in Queensland being Easterfest which is a three-day festival held in Toowoomba. We understand that this festival has grown to be the largest festival in Toowoomba and is claimed to be the largest drug and alcohol free festival in Australia.
As an association representing the local churches of Bundaberg, our objects are:
1. To give the community a high quality musical event for youth, children and families.
2. Provide a major drug and alcohol free musical event for the youth and families in our community.
3. To source local, national and international Christian Artists.
4. Reach out to a larger cross section of the community by having a multicultural/ethnic flavour to the festival.
5. To provide opportunity for local Christian performers to gain exposure.
6. To engender a positive and welcoming atmosphere to increase community spirit.
7. To invite local care and support organisations to make available information of their services in the community (eg. Lifeline).
8. To provide information about Christianity, about the local churches and their programs available to families and individuals.
9. Eventually to draw people from across our nation and beyond to come to this event and to experience Bundaberg.
10. To be a positive influence on the Bundaberg community.
Event Map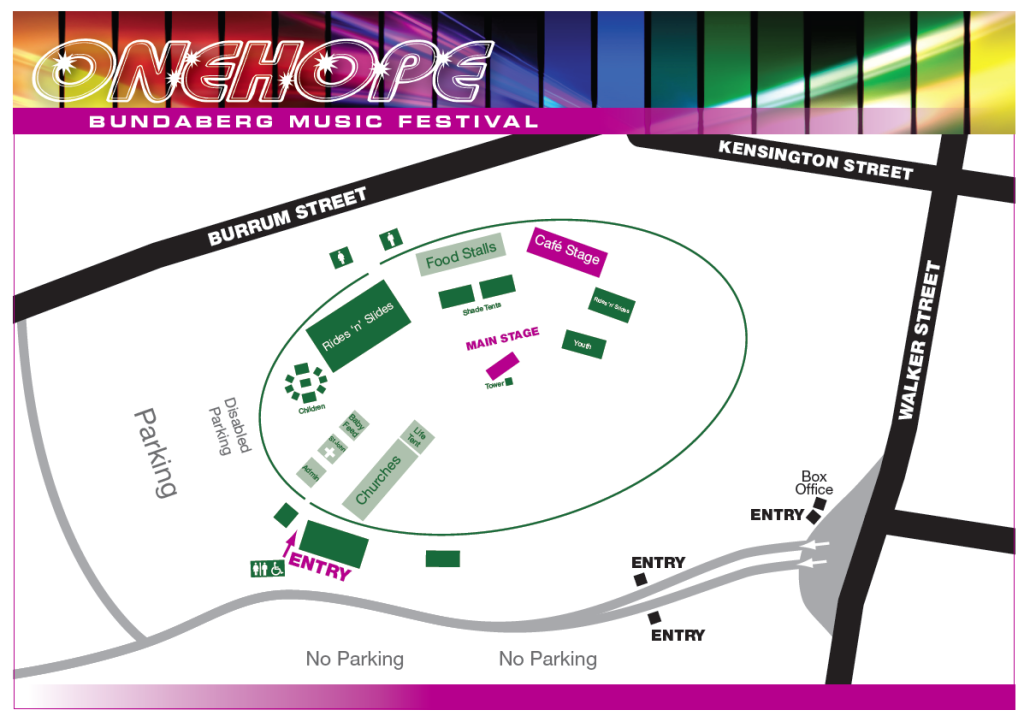 Contact
Need more information?
Email: info@onehope.com.au